1.6.0
bluetooth connectivity: either a simple icon in the "standard items" section, or a more detailed line with a list of connected devices (and their types)
internal improvement: most item keep states on re-layout, so setting options is more "seamless"
internal improvement: by putting all items in groups, code complexity was reduced and I have more flexibility for the future
1.5.3
proximity sensor support (delayed the process to become visible by a second, which leaves more time to read the contents below without finger on top)
fixed a crash in the service that happened at the update process, as last greeting of the old version
both signal strength bar scales immediately appear (if needed, with a question mark) when the item is chosen
improved configuration (slightly better structure, grouped items into logical groups, back arrow in the action bar)
improved permission check in the configuration
at first installation, the app did not show any items until a change was done in the settings – definitely unexpected behaviour
possibly improved carrier name detection (wait and see… beta!)
Configuration did not show up on at least my Android 4.4.1 tab
added "percentage" to the signal strength icon for more detailed information, uses tables separately for 2G, 3G and 4G signal strength values (GSM networks only), gives good impression about quality
signal strength icon sometimes showed a '?' intermittently
signal strength icon has 4 bars (Androids too, with one bar for 'no signal', which makes no sense to me, so no highlighted bar == strength of 0)
proximity sensor auto-hide is now optionally as using a sensor consumes CPU time (1-2% on my S5 – does not reduce battery much, but it does), improved it to use less CPU load
1.5.2
sorry, 2 updates in a short time:
fixed bug (crash) in WiFi settings on some devices
global data rate setting was disabled when the up/download monitor was unchecked
As compensation, I added a nice feature: if you want to hide YACO temporarily, just put your hand above the proximity sensor (top of the phone). It will hide, and reappear if you remove the hand 😉
1.5
Finished Connection data, added global data consumption and other goodies, tethering and VPN detection, … The work is worth it!
Improved the menu structure
Added an action (vibration and/or LED lighting if the device is connected or disconnected). Sounds superfluous, but when the QI wireless station is small and it happens that the device is not 100% correct on top of it that it it not being loaded. Now I feel when it's correct.
On my DualSIM phone, it looks like the following – and I do not have all features enabled…:(the date format is fixed in German format, so it's not in the English form although the language chosen for the shot is English)
1.4
Added Connection data (WiFi and Mobile connection):
Mobile: Type of Connection (EDGE, HSDPA, …), Roaming State, Provider Name. As I  own a DualSim device, this is also supported (Android >= 22).
WiFi: SSID, IPV4 address, connection speed and frequency
1.3
autumn project: internally refactored drawing code to make it easier for me in the future – no layout calculation any more, done by Android
while sitting in a plane flying home (thanks EasyJet ;)), I missed permanent GPS information, so I added a line with optional GPS information (height, speed, satellites used in fix, and climb/sink rate).Unfortunately now YACO needs GPS access permission, but this only really disturbs when installing on pre-Android 6-devices, otherwise it is queried when one of the new options is activated, and does not irritate the user when he wants to install YACO.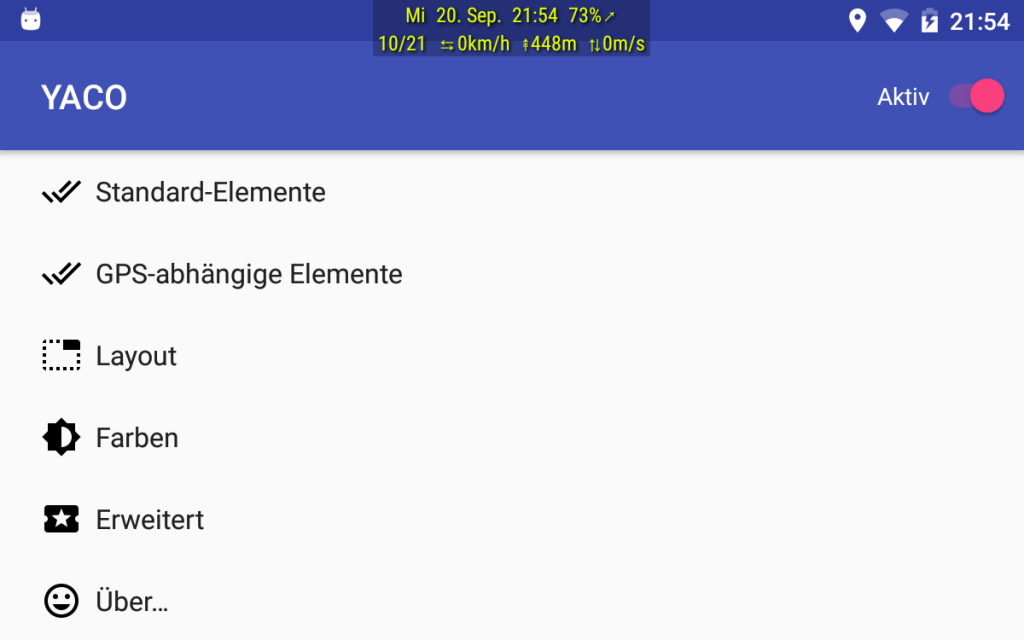 nice feature is that the whole GPS line disappears if the GPS is switched off, and reappears when GPS is active, so it does not need any screen area or CPU/battery resource if GPS is not active
1.2.5a
made listing the fonts of the system (why does Google not offer an official way for such a "standard" task of an operating system?!) safer, a file that was assumed to be present was not – YACO did crash at a customer's device (thanks, Bill)
1.2.5
added font selection (thanks Marco, great idea)
added distance from frame (thanks again for the idea)
1.2.4
fixed layout problems if the character count or widths changed (from 9 to 10 o'clock or such) – thank you, K, for your patience finding that problem!
1.2.3
fixed crash if the Accessibilty service did report a NULL package (thank you, Jeremy, for the report)
1.2.2
battery information starts blinking when some issues occur:
– if the battery state is below minimum (if check is enabled) or
– if the battery is bad, overheated or the voltage is too high (then a sign "!!" is appended)
the battery load arrow has more states: it is diagonal on normal load/unload and vertical (like the current one) when loaded with more than 500 mA or unloaded with more than 750 mA – if the device supports this information correctly. And the diagonal arrow is easier to read. (Only Android >= Marshmellow due to the fact that the diagonal arrows are not defined in the font at least in my Android 4.4 device)
1.2.1
Time format can optionally be forced to 12 or 24 hour format (no am/pm, I guess that's clear)
Battery state can optionally be given a threshold value – below that value, the text is painted in red
1.2.0
supports Date and Day of Week (a suggestion of a Japanese I cannot read the name ;-))
battery load state is now an arrow instead of a '+' or '-'.
reduced memory and CPU usage by caching and only updating the value items when needed
new and nicer config page
ENJOY… I hope that's enough until late in autumn (summer is better to be on the outside than to sit in front of the screen)
1.1.7b
Support for Nougat's new notification entry layout
German Translation
Auto-Ducking did wait for 60000 seconds instead of 60
1.1.7a
'seconds' did not count up
 1.1.7
detects (user) changes in time format, time zone, time value – immediately reflects the changed option.
fixed time format error when the time format was a 12-hour time format and YACO was started at an 12-hour value < 10: result was missing space to the battery symbol (or non-centered text) when the 12-hour value of the hour became >= 10. Thanks Kota for the bug report!
1.1.6
added an option to disable the launcher menu. This is not as easy as it sounds due to Android's activity stack… Suggestion of Roman, thank you.
1.1.5a
… and updated the starter "menu" to FloatingActionButtons, which is more international (no texts) and fits much better to material style (and the app's colors) than buttons. Should be self-explaining.
1.1.5
the new icon was not accepted as I thought, as users and some people I asked told me. Well now to a compromise, readable on black and white screens
it also fits perfectly into the drop-down list of the notifications
needed to use a new color picker as the old one did not calculate the layout correctly at one customer (thank you again, Bill)
1.1.4
Internal: updated to Build SDK 25 (Android 7) – cross your fingers! One of the advantages: the needed permanent, but unnecessary icon in the notification bar is not visible any more.
YACO temporarily disables itself for a minute when the accessibility permission page is opened from YACO's "Info" settings page to ease the configuration…
You can use the Intents "com.chk.permanentclock.DUCK_DISABLE" and "com.chk.permanentclock.DUCK_ENABLE" to show/hide the overlay without changing the active state permanently. These are the same intents used internally for the ducking if a permission dialog pops.
You can use the Intents "com.chk.permanentclock.DISABLE" and "com.chk.permanentclock.ENABLE" to switch the overlay on and off permanently, just like the switch button in the settings
Uses Material Design color for the icon (the one before is still preferred by my daughter…)
Showing the app's icon alpha-blended in the background of the menu reduces contrast problems on home screens with problematic background
1.1.3 (release 115: 1.1.3a)
Popup menu from launcher shortcut to call the Settings or switch the overlay on or off (permanently) – thank you, Bill, for the idea!
Added dummy activities to (temporarily = "duck") the overlay from external applications (i.e. launcher) without changing the mode, that is, YACO stays active (see 'ducking' intents in 1.1.4)!
Changed the icon to something more professionally looking 😉
---
If there's a Beta version available, here's the link: https://play.google.com/apps/testing/com.chk.permanentclock