https://android.chk.digital/lcc/
Charging Supervision for Nissan Electric Cars
Monitors the charging process of the Nissan car via the Internet and informs in the event of an error (and when the desired battery level is reached).
Important: Samsung and Huawei users must exclude the app from aggressive removal, see below!
It has happened to me a few times that the load was simply interrupted by the column. And then it's very important to be informed when something like this happens, because coming back to the empty car after a few hours isn't so much fun.
In addition – as you can see below – there are a few details about the charging process, such as charging power and estimated charging time.
After charging has started, you start monitoring using the app, which periodically monitors the charge status and displays it graphically: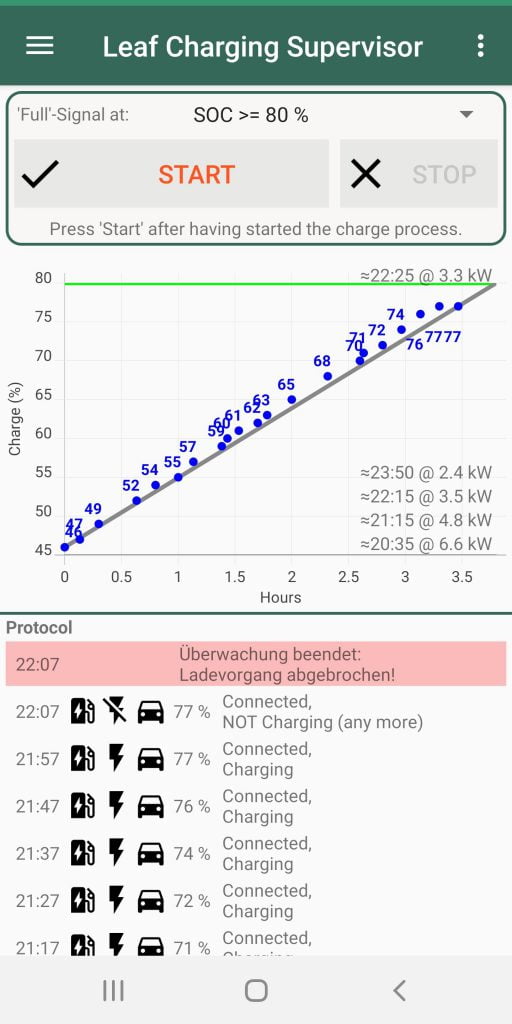 If the desired target charge quantity is reached – as a percentage of the available battery capacity – or an error occurs, the app sounds an alarm.
When the charging process is finished, the monitoring is automatically switched off.
Compatible with NISSAN Leaf ZE0 and ZE1. Regarding the ZE2 I need someone for tests to find out the capacity number. The NISSAN e-NV200 is most likely also supported, I would be grateful for feedback here as well.
Requires NO ODB-II dongle.
Yes, this app costs money – but there is also a lot of work involved. I'll pay the money back even after a few days if the app doesn't meet your expectations.
---
Version History:
Play Store Link:
Charging Supervisor for Nissan Electric Cars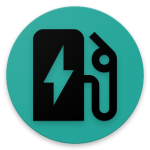 ---
Important Hints for Huawei-Smartphones:
Turn off the aggressive optimization:
Android 9: in Settings > "Apps" > "Apps" > "Charge monitoring" > "Power consumption details":
Disable power consumption warning
Manually manage app start (press it, switch off "manage automatically", all 3 things below must be switched on)
Important Hints for Samsung-Smartphones:
Schalten Sie die aggressive Optimierung aus:
Android 9: in den Einstellungen > "Apps" > "Apps" > "Ladeüberwachung" > "Details zum Stromverbrauch":
Stromverbrauchs-Warnung ausschalten
App-Start manuell verwalten (drauf drücken, "automatisch verwalten" ausschalten, alle 3 Sachen unten müssen eingeschaltet sein)